Flex-Track, Track Parts & Roadbed in Proto:48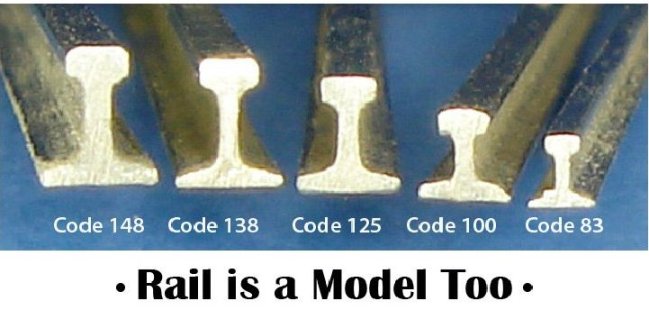 Great looking trackwork enhances the models operating on it to the degree that it is an important factor in any layout. In finescale modeling, accurate and well detailed trackwork is as important as the wheels running on it. Five different rails are available to the O scale modeler. Code 148, which is 131 to 136 pound per yard rail measuring 7-1/8 inches in height has been used extensively with the O Scale crowd. That size rail came into use in the early 1930?s primarily on some Eastern Class I railroads. However, due to supply constraints as a result of WWII, a lot of Class 1 railroads ran on 100 pound rail laid during the 1930?s which measured between 5-13/16? to 6? in height. This is close to Code 125. Some notable exceptions were the Pennsylvania, Nickel Plate (NYC), and the Southern Pacific/Union Pacific which used 112-130 pound rail averaging 6-1/2? in height, or Code 138, in their mainline trackage; the difference being the thickness of the web which resulted in the weight variation. During the pre-war period and up through the 1970?s, much of the branch line rail used throughout the US and Canada was 75 pound, 4-3/4? high rail - or Code 100. Much of this ended up in yards after being removed for upgrading right of ways for heavier tonnage usage. And finally, Code 83, or 52 pound, 3-13/16? high rail was used extensively for the narrow gauge railroads all over North America. And if it was laying around as excess or used rails, it found itself being reused in sidings and loading spurs on standard gauge railroads.

Engineered by Steve Grabowski and carefully converted to CAD drawings by Carl Jackson, Protocraft has produced Code 138, the 6-1/2? rail used during the pre-war years up through the 1950?s by the Pennsylvania, NKP 130# rail and SP/UP?s 112# rail. Protocraft's Code 138 rail is one of the most accurately scaled rail profiles available, and comes in either of two lengths of 39 foot multiples: 48-3/4? (5 - 39? lengths) and 68-1/4? (7 - 39? lengths)

All the above rail is available from Right-O-Way. Code 138 in either Nickel Silver: $73.00/100 ft or Mild Steel: $44.00/100 ft, through Right-O-Way. Phone orders only. Contact Lou Cross (559) 665-1001

The below track parts are available in this web catalog from Protocraft.
Click on an item below to see details
You may use the Add to Cart button to add an item to your shopping cart.
When you go to checkout, you can enter your shipping information and then print out your order form for the items.